Westlaw NZ
Thomson Reuters Training & Support
Welcome to Westlaw NZ
Customer success is top priority for the Westlaw NZ team. When you have Westlaw NZ, you have an entire support crew and resources within arm's reach whenever you need them. Here you'll find user guides, video tutorials, tips and more to help you and your colleagues get the most out of your Westlaw NZ experience.
Thomson Reuters also offers Westlaw NZ customers a range of complementary training options – from face to face training through to webinars and seminars.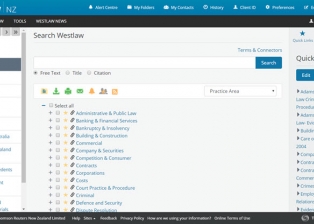 Thu 28 March 2019, 15:00pm
60 minutes
By Elizabeth Odom
This course introduces the essential elements of Westlaw NZ enabling you to develop the key skills required to search, retrieve, refine and download relevant documents
Show Transcript
Technical Issues and Fault Notifications
We have been undertaking a refresh of all case records to improve the case research experience and performance on Westlaw. Click here to see the previous communication.
The expected completion date...