New Westlaw (New Zealand) Tip - Navigating the Sentencing Tracker Analytics Page
Last Published: October 01, 2021
Begin your tracker research
Open the Sentencing Tracker Analytics, accessible from the homepage of Westlaw (New Zealand)
Select the required principal offence from the list provided on the Sentencing Tracker Analytics page e.g., Illicit Drug Offences.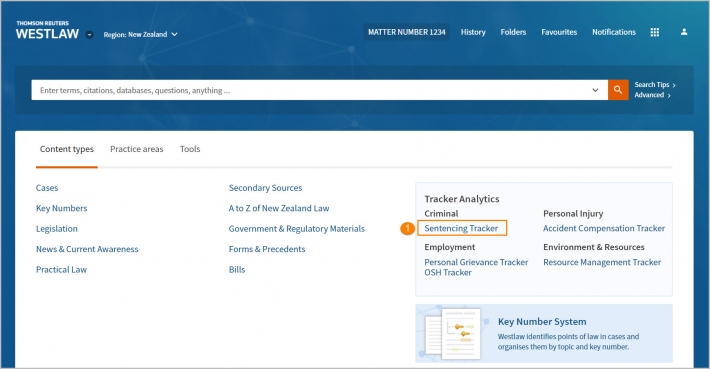 Navigating the Sentencing Tracker Analytics Page
Search within judgments
The Search within judgments field provides the ability to refine results by keywords related to your client's matter.  The search will deliver results where the keywords appear in the full judgment text. 
Filter by Category
To further refine the results, you can apply a filter or select multiple filters. You may choose to select multiple categories as well as subcategories from the options provided.
The Data Visualisation provides the ability to see trends quickly.
Related offences provide information about the minimum, median, and maximum sentences in cases with various related offences.
Appeal outcome provides insights into whether the sentence in cases that have been appealed has been upheld, reduced, increased, or quashed. The Appeal outcome data visualisation is interactive and can be used to filter results.
Tracker Summaries
The tracker summary outlines the offences, plea, custodial or non-custodial sentence details, and any aggravating or mitigating factors that the Judge considered when determining the sentence. Click on the case name to open the tracker summary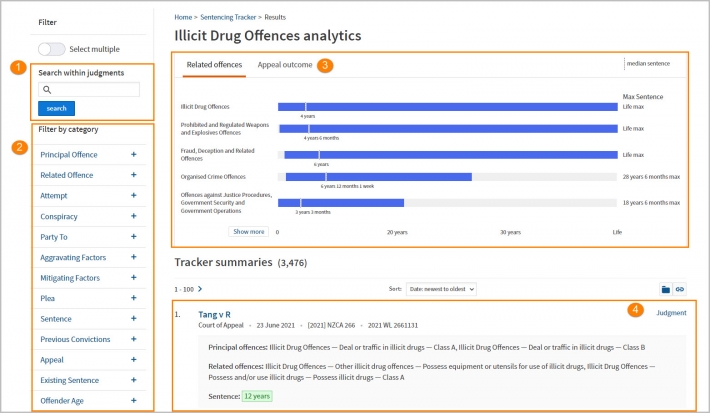 View Tracker Summary
Click on the case title to open the tracker summary.
Click on the Judgment link in the case summary to open the full-text judgment in Westlaw (New Zealand).