Westlaw AU
Thomson Reuters Training & Support
Welcome to Westlaw AU Support
This site provides user guides, videos, FAQs, tips, update information and more to help you get the most out of your Westlaw AU service.
We also offer customers a range of complementary training options – including face to face , telephone, webinars and video tutorials. Click here to request training.
If you are looking to log on to Westlaw AU, go to www.westlaw.com.au in your web browser.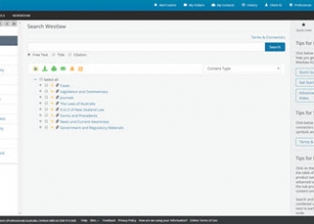 Popular guides & tutorials
Tue 28 January 2020, 13:00pm
20 - 30 minutes
By Tia Friedland
Using terms and Connectors (Boolean operators) when structuring a key word search in Westlaw AU, ensures that your results are relevant and manageable, and avoids the frustration of working with a large amount of irrelevant results. This session will explain how the terms and connectors work, and how they can be used to set up an effective search.
Show Transcript
Subscribers are advised that, contrary to the instructions in the Filing Instructions for Update 34, December 2019, Injunctions, the new tab card referred to therein was inadvertently not mailed. 
...