Legal Insight launches
News on trends, best practice, debate and thought leadership: that's Legal Insight. Information for legal professionals: you.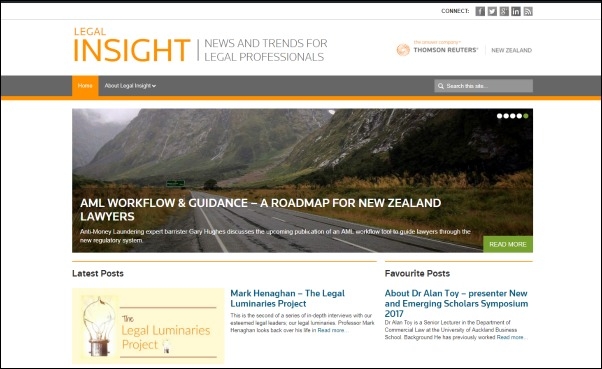 We're delighted to announce the launch of Legal Insight – our new blog. You'll find it offers real time guidance, insights and commentary on the issues, opportunities and challenges you face every day.
For instance, are you ready to meet the new AML/CFT Amendment Act reforms that come into force 1 July 2018? No? Read AML Workflow & Guidance – a Roadmap for New Zealand Lawyers
Our article by Barrister Gary Hughes, widely regarded as New Zealand's leading lawyer for Anti-Money Laundering expertise, provides recommendations and a potential solution to allay your qualms.
But wait there's more
There's introductions to some of our new and emerging legal scholars who gathered recently for a symposium. Nathan Ross (Victoria University) discusses the treatment of climate migrants and we look at the development of "plain language law".
Get in touch
Do you have a great story idea? Expertise and insights to share?
Questions about our services? We'd love to hear from you!