Westlaw NZ Tip - Setting up Individual Alerts
Suppose you want to be alerted each time a case in which you have recently been involved has been cited by another case.  You can establish an email Alert for this in Westlaw NZ (you must log in with a OnePass to be able to do this).
Step 1:  Find the case you want to follow – make a note of the citation, for example 2013 ERNZ 326 (there may also be other citations).
Step 2:  Go to the Cases search template, and into the Cases Cited field, enter the citation – click Search.

Results list will indicate all the cases that have cited the case you entered.
Step 3:  To set up your Alert, in the results list page, click the bell symbol.

An Alert page will appear – complete the fields as required –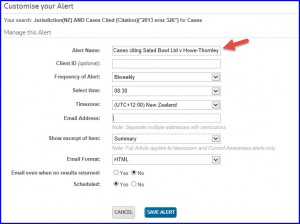 Give your Alert a logical name so you will recognize it when the emails arrive
Choose how often and what time you want to receive an email
Your email address is likely to be pre-populated
Save the Alert
The Alert you established will automatically produce an email that will display any new cases that have been added to the cases database which cite the case you requested.
To make adjustments to your Alert, from the black toolbar, click Alert Centre.  This will display any Alerts you have set up, and you can suspend, delete, adjust or run the Alert.
Other Alert ideas might be –
• New guideline/tariff cases
• Recent immigration cases
• Recent Family relocation cases
• Being alerted to a new case that does not yet appear, for instance a case that is currently making its way through the Courts and for which a decision has not yet emerged
Want to learn more about Westlaw NZ?
Why not attend one of our webinar training sessions.  They provide a quick and convenient method for learning more about Westlaw NZ, and gaining the most from your subscription.  These sessions are eligible for CPD points.  Contact our training team.