new Westlaw (New Zealand)
Thomson Reuters Training & Support
Welcome to the new Westlaw (New Zealand)
This site provides user guides, videos, FAQs and tips to help you research using new Westlaw New Zealand.
To log in to Westlaw, go to https://nzlaw.thomsonreuters.com.
We offer a range of complementary training options – including telephone, webinars, video tutorials or tailored training sessions by arrangement. Click here to request training.
For research assistance email "Ask a Trainer". A trainer will respond as soon as possible. We will need your contact details and information about your request.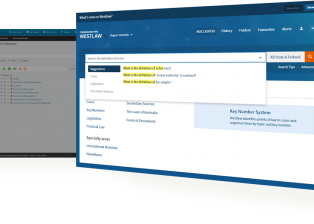 Tue 22 June 2021, 09:00am
30 minutes
By Elizabeth Odom
This Webinar introduces the basic functionality available in the new Westlaw New Zealand platform, and will guide the user to confidently navigate, search and retrieve information
Show Transcript
The Westlaw search results page has been enhanced to show all content types by default. This has removed the need to click on Show More to see all content types.
The option to set a specific content type as your default has also been added.
To set your default content type:
C...