Westlaw (New Zealand ) Tip - How to find commentary on a section of legislation (Annotated Legislation)
Last Published: July 11, 2022
To open the Table of Contents of an act within a Commentary Publication, start typing the name of the act in the Global Search bar and the Typeahead feature will provide suggestions. e.g., Fair Trading

Click Secondary Sources.

Click the Act name, with a reference to the Commentary Publication from the dropdown suggestions. e.g., Fair Trading Act 1986, Gault on Commercial Law.
Note: Please note in some instances several commentary databases may provide commentary on the same legislation.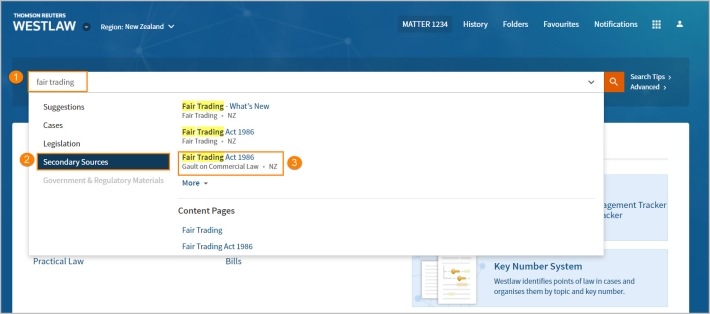 The Table of contents will be displayed. Click on the plus symbol (+) to expand the table of contents. e.g., Fair Trading Act 1965, section 9. Click on the words of the section title to open the legislation and direct commentary.