Westlaw NZ
Thomson Reuters Training & Support
Welcome to Westlaw NZ
Customer success is top priority for the Westlaw NZ team. When you have Westlaw NZ, you have an entire support crew and resources within arm's reach whenever you need them. Here you'll find user guides, video tutorials, tips and more to help you and your colleagues get the most out of your Westlaw NZ experience.
Thomson Reuters also offers Westlaw NZ customers a range of complimentary training options – from face to face training through to webinars and seminars.
---
"Ask a Trainer" is an email service available on Westlaw.
You can send us a question or request support any time – we will respond to you as soon as possible. Be sure to include your contact details and information about your query in the email: nztrainers@thomsonreuters.com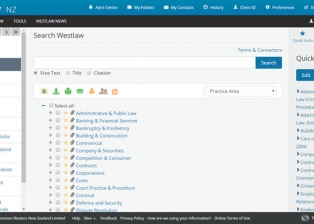 Fri 29 January 2021, 10:00am
30 minutes
By Elizabeth Odom
This course focuses on locating and searching legislation and commentary services. We will discuss the different commentary services available and the best methods for conducting research.
Show Transcript
If you currently subscribe to Thomson Reuters Westlaw products, you may or may not be aware that you have a Pay-Per-View option. 
What is Pay-Per-View (PPV)? 
PPV allows you to view content not...