Westlaw NZ
Thomson Reuters Training & Support
Welcome to Westlaw NZ
This site provides user guides, videos, FAQs and tips to help you research using Westlaw NZ.
Request Training
We offer a range of complimentary training options – including webinars, onsite training, self-paced videos and customised sessions. Click here to create a training session to suit your needs and practice area.
Ask a Trainer email service
For research assistance email Ask a Trainer and provide your contact details and information about your request.
Westlaw Login
To log in to Westlaw, go to https://westlaw.co.nz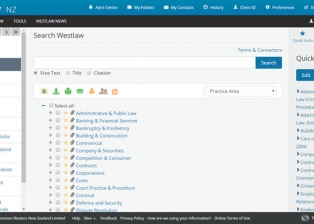 Tue 03 August 2021, 17:30pm
30 minutes
By Elizabeth Odom
Students will learn to skillfully navigate, access and retrieve legal materials and implement effective legal research strategies. This course is open to all students.
Show Transcript
In the recent decision of Re Singh [2021] NZIPT 505217, the Immigration and Protection Tribunal ruled that it would be unjust or unduly harsh to deport Indian man Talwinder Singh home during a catastrophic COVID-19 outbreak there. It also said Mr Singh and his family in India would...