Westlaw NZ - Alert24 - Thomson Reuters Westlaw Product Watch
Last Published: March 01, 2021
Follow these instructions to start receiving Alert24 -Thomson Reuters Westlaw Product Watch updates automatically by email.
Log on to the service at http://www.westlaw.co.nz
Enter your Username and Password then click Sign In.
Click on the Advanced Search template named "News and Current Awareness".
Select Alert24 to display a list of subscribed topics.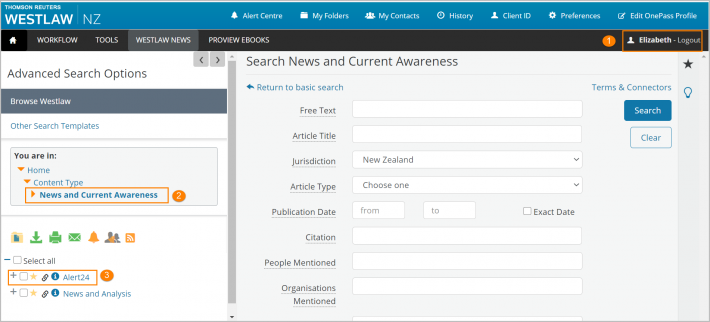 Further down on the left, click the + symbol beside the title Alert24 the list of subscribed topics will appear.
Click the box beside the title you want to start receiving automatically. e.g., Alert24 -Thomson Reuters Westlaw Product Watch - Legal
Click the bell symbol that appears at the top of the list of topics. Westlaw NZ will automatically generate the Alert(s) you ticked.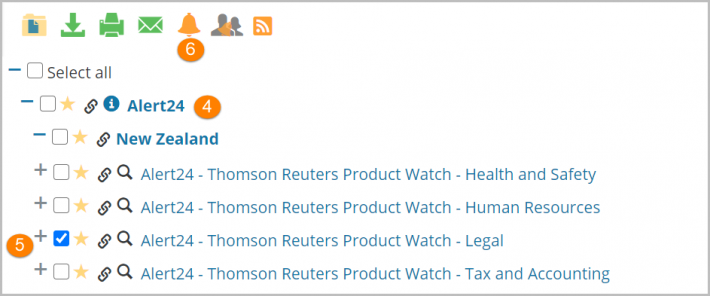 Give your Alert a logical name so you will recognize what it is when the emails arrive. Change the frequency if you wish.
In the field entitled "Show Excerpt of Item" choose whether you want your email to display the Summary, Full Article or Headline Only we recommend Full Article
Ensure that your email address appears in the email address line.
Click Save Alert at the foot of screen. Emails should automatically begin arriving the following (working) day.