Westlaw NZ - Finding Tariff/Guideline Sentencing Cases
Last Published: February 21, 2019
To locate the Sentencing Tracker from the Westlaw NZ home page:
Click the plus symbol beside the Criminal practice area
Click the plus symbol beside Sentencing Tracker
Click on the words Guideline Judgments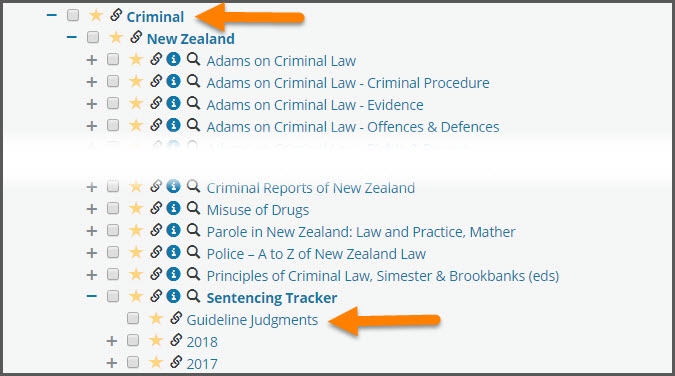 A list of tariff/guideline cases will appear, as directed by the Court of Appeal. Most of those cases will relate to various sections of the Crimes Act, but other legislation is also covered eg Health and Safety at Work Act, Land Transport Act, Misuse of Drugs Act, etc.
You can make this page into a quick link by clicking the yellow star near the top of the screen, naming it then saving it. It will then appear in your list of quick links in the right pane (you need to have logged in with a OnePass for this to work).
Need help with finding sentencing cases? Email our "Ask a Trainer" service at nztrainers@thomsonreuters.com