Westlaw NZ Tip - Copy with Reference
Last Published: August 02, 2019
Follow these steps:
Highlight the portion of text you want to copy by clicking and dragging your mouse over it. The following options should appear: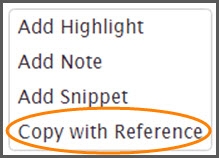 Click on Copy with Reference - the following screen message will appear:

Open the Word document into which you want to download the copied text

Click the mouse where you want the text to appear, then download it into Word by using Ctrl+V on the keyboard, or clicking on the "Paste" option in your Word toolbar

​​​​​​

The portion you highlighted will now appear in your Word document, along with the relevant reference as to where it came from
Copy with reference has limit of 3000 characters (including spaces and line spaces). So for larger portions of text, long documents or full Acts, you will need to use different options.
Please email nztrainers@thomsonreuters.com if you need help with this function, or help with searching in Westlaw NZ.