Westlaw NZ Tip - Finding Point in Time legislation
Last Published: October 12, 2017
From the left side of the Westlaw NZ home page, click the Legislation and Commentary search template.
Into the legislation title field, enter the name of the legislation you want to find.
Into the legislation provision field, enter the section number (or rule, or clause).
At the foot of the search template, tick the radio button beside Point in Time.
Into the field to the right of that radio button, enter the date in this format – 12/10/2020 (or you can choose the date from the calendar that appears when you click into that field).
Click search.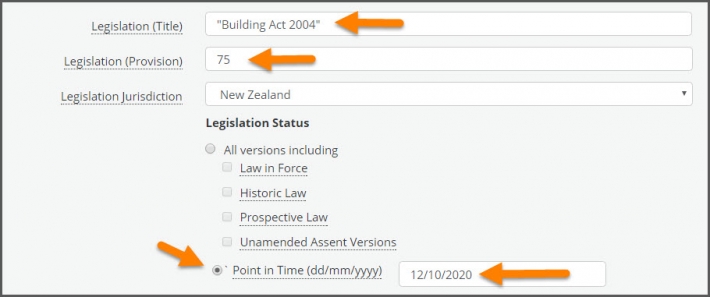 The result screen will display the section title you requested.
When you click on the title, Westlaw NZ will take you to the future version of that section.
If there is no future version, the current section will be displayed.