Westlaw NZ Tip – How to create an Alert24 Topic Alert
Last Published: October 09, 2017
From the Westlaw home page, begin by browsing the News & Current Awareness content type from the Westlaw NZ homepage.
Locate Alert24 and place a tick next to the required topic or topics.
Click the Alert icon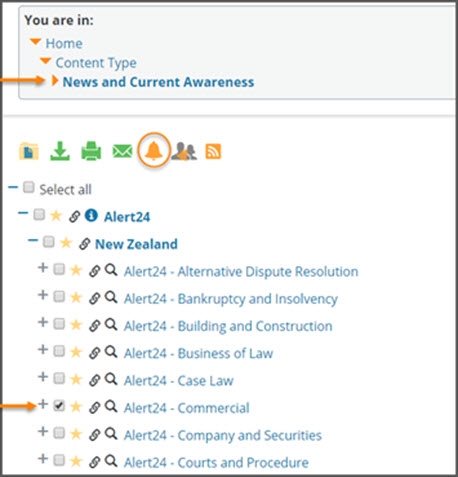 From the Customise your Alert page, enter an Alert Name, select Frequency of Alert, enter a valid Email Address and click Save Alert to commence receiving your Alert24 alerts.
Other tips for setting up Alert 24 emails
When setting up an alert from your OnePass, change the default time from 8.30am to 9am(this allows for delays that sometimes take place).
In the "show excerpt of item" field, change the default setting of "summary" to "Full Article"
Note the text that says "Full article applies to Newsroom and Current Awareness alerts only"– Case Law content will default to displaying as a summary, with a link to the full judgment.