Westlaw NZ
Thomson Reuters Training & Support
Welcome to Westlaw NZ
Customer success is top priority for the Westlaw NZ team. When you have Westlaw NZ, you have an entire support crew and resources within arm's reach whenever you need them. Here you'll find user guides, video tutorials, tips and more to help you and your colleagues get the most out of your Westlaw NZ experience.
Thomson Reuters also offers Westlaw NZ customers a range of complementary training options – from face to face training through to webinars and seminars.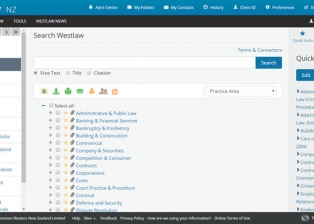 Thu 24 October 2019, 11:00am
60 minutes
By Elizabeth Odom
This course focuses on finding relevant cases and establishing the legal precedent of a case. Learn how to be notified when new cases are added to Westlaw NZ and much more.
Show Transcript
Thomson Reuters is excited to announce we will be migrating customers to SAML SSO access for our online research platforms. 
We will be proactively contacting IP customers over the coming months as we...